C6th Hawaiian Tabs)

Click HERE to hear me play Moon of Manakoora (download)

recorded on the D9th lap steel tuning, which is nothing more than dropping the 4th string on your C6th from a G note to an F#. So the tuning from high (string 1) to low is: E, C, A, F#, E, C). I used the same 1936 Bakelite Rickenbacher pictured to the right. Rick Aiello kindly rewound the pickup's for me with 38-guage wire and rejuiced the magnets. Nice!

Here are my D9th tabs for the beautiful Hawaiian song, Moon of Manakoora.

Here's a decent lap steel at an affordable price

(I've had good experience with Guitar Center simply because they offer FREE shipping). My preference is to buy a used classic from The Golden Years of music and pre-WWII. Albeit, please don't get me wrong, the tone of a long-scale 24 1/2" Jerry Byrd Frypan is MUCH better, but you'll pay 8 times more! Compare the sounds for yourself and you'll hear why the Byrd Frypan costs so much more...

Jersey Lightning Verses Byrd Frypan

Bali Hai

Billy Hew Len
(Cool: plays with a missing left hand!)

Beautiful Kahana
(by Jerry Byrd | Tabs for 'Beautiful Kahana'
Helpful Advice For Steel Guitarists

One of my favorite artists...
Bobby Ingano
(playing 'E Aloha No Honolulu')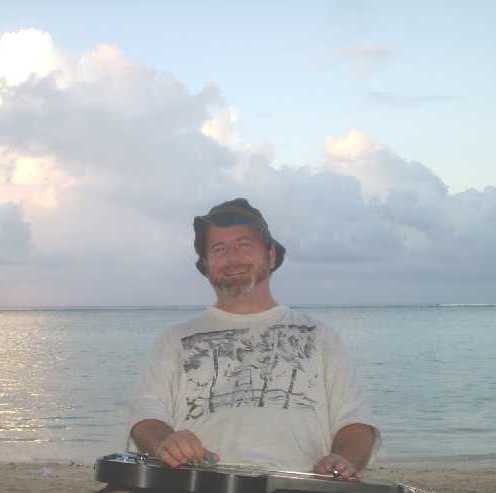 I am a grateful born-again Christian.
Music makes the world a better place!

Below is one of the most sought after lapsteel guitars in the world. The 1 1/2" horseshoe pickup identifies it as pre WWII. 7-strings were more rare than the 6-strings. Through-the-body strings are much preferred as they produce a nicer tone than strings attached to a flange at the bridge. Brass Dunlop finger picks are my favorite!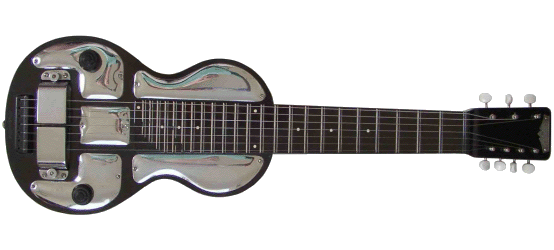 As strange as it may sound, steel guitar is associated with Hawaiian music everywhere except in Hawaii. Anywhere in the world, when people think about Hawaiian music, they think about the steel guitar. But in Hawaii, the ukulele is the official State instrument.
There is still much anger and resentment amongst Hawaiians against the United States for stealing their land and turning all their beautiful beaches into hotel developments. Now there's talk of building a train system in Honolulu, which would be good to reduce traffic, but it is ruining paradise. Many of the themes in Hawaii's music centers around the destroying of their homeland.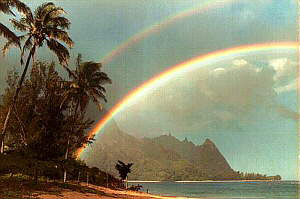 Albeit, if you ever visit Oahu, you will see many rainbows, as it rains often because of the high mountains. Oahu is overrated if you ask me. If you drive up and down Beretania and North King Streets, you'll see hundreds of homeless people living on the streets. So much for paradise.
Listen 2 Hawaiian Radio:
Hawaiianrainbow | Steel Radio
Maunalua | Uilani Baby Kalae

The steel guitar is an awesome instrument that's a legendary part of American history. In the 1930s thru 1950s, everyone wanted to learn to play lap steel guitar. It is a different story today, but that makes it even more rewarding to play steel as a rare novelty that few people can do. Guitar and bass players are dime-a-dozen, but steel players are rare indeed.

My name is David J. Stewart. I've been playing steel guitar since 1992. I want you to learn to play Hawaiian steel guitar. That is my desire. I don't want your money and have nothing to sell. I link to some websites that do sell things, but only because I want you to know all that's available to learn the steel guitar. My website is packed full of instruction and helps to get you started. God gave me the gift of music, and I want to share it with others freely.

There's tons of tablature already available for the pedal steel E9th and C6th tunings; but hardly anything for us non-peddlers, so I decided to publish this website to help those who want to learn the beautiful lap steel. Although I use B11th, D9th, and the Bill Leavitt tuning, most of what I play is C6th, which offers the most chord possibilities.

Of course, if you play E9th pedal steel, you can just drop your 4th and 8th string (E notes) down to Eb and you have a C6th on the 1st fret. Strings 10, 8, 7, 6, 5 and 4 are respectively: C, E, G, A, C, E. Just avoid the 9th string. You can't beat playing C6th on an old ShoBud! That's what Jerry Byrd played... a ShoBud with no pedals.

And if you play C6th on the pedal steel, you have an extended C6th tuning to play everything on my website. So whether you play E9th pedal steel or C6th pedal steel or C6th non-pedal steel, this website will offer many helpful things. C6th Scales Rhythm Tracks