Steel
C6th
.com
About | C6th Tabs | Rickenbacher | Tunings | Brad's Page | HSGA | Rhythm Tracks | Jerry Byrd | Steel Guitar Videos | Song Tabs | How to Go to Heaven | E9th | Listen
Getting Started
(C6th Hawaiian Tabs)

Click HERE to hear me play Moon of Manakoora (download) recorded on the D9th lap steel tuning, which is nothing more than dropping the 4th string on your C6th from a G note to an F#. So the tuning from high (string 1) to low is: E, C, A, F#, E, C). I used the same 1936 Bakelite Rickenbacher pictured to the right. Rick Aiello kindly rewound the pickup's for me with 38-guage wire and rejuiced the magnets. Nice!

Here are my D9th tabs for the beautiful Hawaiian song, Moon of Manakoora.

Here's a decent lap steel at an affordable price (I highly recommend Guitar Center simply because they offer FREE shipping. You'll pay A LOT of shipping at Musician's Friend). I own the red 'New Jersey Lightning' Lap Steel (I think it matches the beige gig bag best) and it sounds very nice. It has felt glued underside to keep it from slipping off your lap. Strings mount through the body. The sustain is very good. Note: I removed the chrome plate over the bridge so I could do palm muting. I highly recommend that you do the same. There's just 2 Philip's screws to remove. The pickup is chrome-plated anyway and looks nice, so you really don't need the big chrome cover. Albeit, please don't get me wrong, the tone of a long-scale 24 1/2" Jerry Byrd Frypan is MUCH better, but you'll pay 8 times more! Compare the sounds for yourself and you'll hear why the Byrd Frypan costs so much more...

Jersey Lightning vs. Byrd Frypan

Used Lap Steels
You don't know what you're missing out on without a lap steel in your life! Many come with old-timey amps too. Hawaiian steel guitar is real music! Bali Hai

Billy Hew Len (has a missing hand)
The steel guitar is a great instrument for disabled people (with either missing fingers/hand to learn). Watch Billy play. With unique adaptations and a determined spirit, you can play the steel guitar, even if beautiful one note style like I do sometimes. Here's another, His Name Is Wonderful.)

RECORDING YOUR OWN MUSIC

You don't need an expensive recording studio with all the bells and whistles. Here's a recording I made, playing the pedal steel E9th, using just a small handheld ICD PX720 recorder (there are many similar nice recorders, like the PX312). A digital recording studio, like the Boss BR-600 is great, but you can record with much less, like I did here. My favorite means of recording is with desktop software, using MixCraft.

Here's another one, Harbor Lights, played on a S-6 long scale Frypan using the C6th tuning.

Watch me play Sweetnin' in A6th (treble to bass: E - C# - A - F# - E - C# - A - F# ), same as C6th, just 1 1 /2 tones lower in pitch. The high E is the same as a high G on C6th. Here's the track I used (more tracks available here. Here's some tabs for Sweetnin'.

Here's 2 favorites Hawaiian songs, Mapuana and Hana, which I recorded playing a $99 Artisan lap steel tuned to B11th. $149 Morrell

Here's My Yellow Ginger Lei. I backed-up the singer using a 1936 S-6 Rickenbacher Bakelite, C6th.

E Mama E | E Mama E Tabs and Rhythm Track for E9th lap steel

What A Friend In Jesus | Track

Here's Song of the Islands which I played live at a public gathering.

Here's Paper Roses that I played on the E9th pedal steel. Here's several more E9th songs from my heart. You may freely share them:

The best way to learn to play Hawaiian steel guitar is to LISTEN to lots of Hawaiian steel guitar, to become well acquainted with the instrument and what it can do.

Get out your steel guitar and try to play along with some of these songs (files are 24 kbps mono). The C6th tuning is best, I think, but many different tunings were used by these various steel guitarists.

I love the intro which Barney Isaacs Jr. (1924-1996) does on Beyond the Reef, which is played during every commercial break in Honolulu on am940hawaii.com. You can hear what an 8-string can do, giving you some great low notes to rake across. I tabbed out the intro for you, which is really awesome.

Check out what you can do with bar slants on an extended C6th.

There are literally hundreds of M3U songs on this page for you to listen to. I cannot provide download links for most of the music; but you can listen to beautiful steel guitar, which is in my opinion the most wonderful music in the universe. It reminds me of Heaven! All my personal recordings are downloadable and many of the rhythm tracks! You're welcome to freely use them as you wish. Check out my videos!

I have compiled many of these songs into a Hawaiian playlist (122 so far) if you just want to hear these songs as background music while relaxing or working around the home. Enjoy!

Hawaiian music is like any other genre, you have the good and the bad. As a Christian I try to only promote that which is good, modest, decent, and pleasing to the Lord Jesus Christ.

Hawaiian Beach Boys - Bali Hai (1973)

---

Various Artists -
All the Best of Hawaii

---

Poss Miyazaki - Hawaiian Exotics

I am a grateful born-again Christian.
Music makes the world a better place!

---

Below is one of the most sought after lapsteel guitars in the world. The 1 1/2" horseshoe pickup identifies it as pre WWII. 7-strings were more rare than the 6-strings. Through-the-body strings are much preferred as they produce a nicer tone than strings attached to a flange at the bridge. Brass Dunlop finger picks are my favorite!

As strange as it may sound, steel guitar is associated with Hawaiian music everywhere except in Hawaii. Anywhere in the world, when people think about Hawaiian music, they think about the steel guitar. But in Hawaii, the ukulele is the official State instrument.

There is still much anger and resentment amongst Hawaiians against the United States for stealing their land and turning all their beautiful beaches into hotel developments. Now there's talk of building a train system in Honolulu, which would be good to reduce traffic, but it is ruining paradise. Many of the themes in Hawaii's music centers around the destroying of their homeland.

Albeit, if you ever visit Oahu, you will see many rainbows, as it rains often because of the high mountains. Oahu is overrated if you ask me. If you drive up and down Beretania and North King Streets, you'll see hundreds of homeless people living on the streets. So much for paradise.

Hear me play Rainbows Over Paradise | Download | Track | Tabs

I've said that to say this, Hawaiian music is not about a place; but rather, making the best of life wherever you're at. No one appreciates Hawaiian steel guitar more than people living up in frigid Canada and Europe. Music comes from the heart. To me, Hawaiian music is about Heaven, and all the blessings awaiting every born-again Christian, somewhere far beyond the sun. 'Tis one life will soon be past, only what's done for Christ will last.

---

There is a sweet tonal spot on certain lap steel pickups, such as Rickenbacher horseshoes and Excel Frypans. Turn your tone control knob all the way muddy, and then come back just a little bit. DON'T turn the knob all the way bright. If it's set right, your steel will sound somewhat like a horn in a brass band, which is a highly desired sound for Hawaiian steel.

Also, don't listen to the bogus hype that because Excel Frypans only use cosmetic horseshoes that they don't sound as good as horseshoe pickups. Not so! The stock pickups are awesome and equal any Rickenbacher!

All the talent in the world means nothing if you have not desire. Success is 90% perspiration, and 10% inspiration. You can do it!

---

Kalalau Valley on Kauai, Hawaii

---

Music Chord Structures

| | | | | | | | | |
| --- | --- | --- | --- | --- | --- | --- | --- | --- |
| | 1 | | 3 | | 5 | 6 | 7 | |
| Key of C: | C | D | E | F | G | A | B | C |
| Key of A: | A | B | C# | D | E | F# | G# | A |
| Key of Bb | Bb | C | D | Eb | F | G | A | Bb |
| Key of B: | B | C# | D# | E | F# | G# | A# | B |
| Key of C: | C | D | E | F | G | A | B | C |
| Key of C# | C# | D# | F | F# | G# | A# | C | C# |
| Key of D: | D | E | F# | G | A | B | C# | D |
| Key of Eb | Eb | F | G | Ab | Bb | C | D | Eb |
| Key of E: | E | F# | G# | A | B | C# | D# | E |
| Key of F: | F | G | A | Bb | C | D | E | F |
| Key of F#: | F# | G# | A# | B | C# | D# | F | F# |
| Key of G: | G | A | B | C | D | E | F# | G |
| Key of G# | G# | A# | C | C# | D# | F | G | G# |

---

---

Kana King

& His Hawaiians -
The music of Hawaii

---

Haleloke Kahauolopua - Hawaiian Blossoms (1951)

---

Volume pedals are essential to proper lap steel technique. You'll miss so very much without a volume pedal. Use the pedal to raise into notes and then to back-off after playing notes. This is for seamless chord expression.

---

There are 3 types of guitar strings: wound, semi-flat, or round-wound (flat). The higher string gauges are all plain. Only the lower strings are wound. I use semi-flats because they are brighter and more responsive than flats; but flats are very comfortable on the left hand while sliding and they're quiet.

(videos)

WEAR A LEI (B11th tabs)

*If this webpage appears off the screen on your computer, adjust the size by rotating the mouse wheel while holding down the CTRL key.

Johnny Pineapple & his Orchestra - Hawaiian Holiday

---

Frank Chacksfield and his Orchestra - Hawaii

Every student of the steel guitar should start learning without any guitar effects. To the degree that effects are used, the player is drowned out. Check out Bud Isaacs.

Note: The above CD also includes background play-along tracks for all 10 songs (listed here).

TRAVELER Lap Steel Project
Watch video (TRAVELER)

Playing

Harmonics

Psalms 144:9, "I will sing a new song unto thee, O God: upon a psaltery and an instrument of ten strings will I sing praises unto thee."

Listen to
Hawaiian Radio

The steel guitar is an awesome instrument that's a legendary part of American history. In the 1930s thru 1950s, everyone wanted to learn to play lap steel guitar. It is a different story today, but that makes it even more rewarding to play steel as a rare novelty that few people can do. Guitar and bass players are dime-a-dozen, but steel players are rare indeed.

My name is David Stewart. I've been playing steel guitar since 1992. I want you to learn to play Hawaiian steel guitar. That is my desire. I don't want your money and have nothing to sell. I link to some websites that do sell things, but only because I want you to know all that's available to learn the steel guitar. My website is packed full of instruction and helps to get you started. God gave me the gift of music, and I want to share it with others freely.

There's tons of tablature already available for the pedal steel E9th and C6th tunings; but hardly anything for us non-peddlers, so I decided to publish this website to help those who want to learn the beautiful lap steel. Although I use B11th, D9th, and the Bill Leavitt tuning, most of what I play is C6th, which offers the most chord possibilities.

Of course, if you play E9th pedal steel, you can just drop your 4th and 8th string (E notes) down to Eb and you have a C6th on the 1st fret. Strings 10,8,7,6,5 and 4 are respectively: C, E, G, A, C, E. Just avoid the 9th string. You can't beat playing C6th on an old ShoBud! That's what Jerry Byrd played... a ShoBud with no pedals.

And if you play C6th on the pedal steel, you have an extended C6th tuning to play everything on my website. So whether you play E9th pedal steel or C6th pedal steel or C6th non-pedal steel, this website will offer many helpful things.

DON'T FORGET THE VIBRATO!

One of the most beautiful aspects of steel guitar playing, whether it be Hawaiian, Gospel or Country music is using bar vibrato, i.e., slightly moving the bar back-n-forth on the fret to produce a wavering sound, which pulls on the heart of the listener!

Also, learn to pause on a single note while playing. If you get the timing right, it is beautiful.

DUNLOP BARS ARE BEST!

I like the Dunlop brand steel bars because the end facing the player is receded, which allows your thumb a place to easily do reverse slants. It really helps! I prefer the longer 3/4" by 2 7/8" bar.

I use my larger pedal steel bar on my long-scale Frypan, but I have to be careful not to slip while doing reverse bar slants.

Rick Alexander (1947-2009) Barney Isaacs Jr. (1924-1996)
Bud Tutmarc (1924-2006)
Jerry Byrd (1920-2005)

Jerry Byrd Biography
Jerry Byrd Instruction

John W. Peterson (on steel guitar) -
Twilight Melodies

---

Lani McIntire and His Orchestra -
Song of Hawaii

Leo Addeo -
More Hawaii in Hi-Fi

1.
The Sheik of

Arabia

2.
Isle of Paradise
3.
Near You
4.
Song of India
5.
Harbor Lights
6.
Third Man Theme
7.

Moon

of Manakoora
8.
To You, Sweetheart, Aloha
9.
Song of the Islands
10.
Red Sails in the Sunse

t

Hilo Hawaiians - Honeymoon in Hawaii


The Hawaiian Islanders -
Hawaiian Enchantment


King Keoni And His Islanders -
This Is Hawaii

Here's me playing His Name is Wonderful on a S-6 Frypan

. Numerous Split track CDs are available. I use MixCraft to split and slow the tracks.

My Letter from Jerry Byrd 1993
My Letter from Jerry Byrd 1999
My Signed Aloha Card from 1993

Jerry Byrd Instruction
(comes with rhythm tracks and tabs)

Who Plays 'SPONGE BOB'?
His name is Gary Brandin
(recording by Gary)

Sweet Leilani on a Fender 1000 Pedal Steel by Basil Henriques
[Basil Henriques, 1963 Fender 1000 Twin 8 steel guitar. Pat Henriques, Rhythm Guitar (Hofner Golden). Clive Morton, Acoustic Bass. Recorded 1967 and available on "Live at The Castaways" Volume 1. Volume 2]
Luke Leilani

& His Royal Hawaiians - Hawaiian Paradise

All Star Hawaiian Band - Steel Guitar Magic - Hawaii's Golden 16

Webley Edwards - Hawaii Calls Show

The Surfmen -
Colorful Romantic Hawaii

Lani McIntire - Hula Blues

1.
Hula Blues
2.
Kaneohe
3.
Ua Like No

A

Like
4.
Palace In Paradise
5.
La Rosita
6.
Oh Beautiful Ka Ilima
7.
South Sea Sweetheart
8.
I Want To Learn To Speak Hawaiian
9.
Kolopa
10.
Ama Ama

Kalua Beach Boys -
South Sea Island Magic (1960's)

| | | |
| --- | --- | --- |
| 1. | | Aloha Oe, South Seas Island Magic |
| 2. | | Sleepy Lagoon |
| 3. | | Beyond The Reef |
| 4. | | Treasure Island |
| 5. | | You'll Never Go Home |
| 6. | | Lovely Hula Hands |
| 7. | | To You Sweetheart Aloha |
| 8. | | Hawaiian Song Of Love |
| 9. | | Pagan Love Song |

The Surfmen -
The Sounds Of Exotic Island

The Surfmen -
The Romantic Lure Of Hawaii

Various Artists - Hawaii Compilation

---

Santo & Johnny - Hawaii (1961)

---

David Stewart -
Hawaiian Steel Guitar (2001)

---

Alfred Newman and Ken Darby -
Ports of Paradise (1960)

The Polynesians -
Hawaiian Wedding Song

1.
Hawaiian Wedding Song
2.

Hawaiian War Chant

3.

Queen of My Heart

4.
Lehua
5.
Rose Lani
6.

Where I Gave My Heart to You

7

.
My Yellow Ginger Lei

8

.
At The Barefoot Bar




(

24 1/2" and 22")

A short-scale makes doing bar slants easier; but the long-scale has a sweeter tone. I prefer the long-scale (played with a pedal steel bar). Unless you are a die-hard 8-string player, 6-strings is best (the strings are spaced further apart). ALWAYS buy the stand and legs with the case, because the aluminum guitar gets heavy after a while. The case is the SAME exact size with or without the legs and stand. I didn't believe it until I saw it. The stand rests neatly under the guitar in the case.

---

Felix Mendelssohn & His Hawaiian Serenaders - Mamula Moon

David Stewart and His Band-in-a-Box
- MP3's from Videos I've Made

In

1965 Johnnie Wright (1914-2011) sang HELLO VIETNAM. The original recording only had an intro, so I added some E9th pedal steel to it.

Various Artists -
I Will See You in Hawaii

1.
The Diamond Head Beachcombers - I'll See You In Hawaii
2.
Los Indios Tabajaras - My Isle of Golden Dreams
3.
The Mauna Loa Islanders - On the Beach at Waikiki
4.
Los Indios Tabajaras - Hawaiian Wedding Song
5.
The Diamond Head Beachcombers - Song of the Islands
6.
Leo Addeo and His Orchestra - Moon of Manakoora
7.
The Mauna Loa Islanders - My Little Gras

s

Shack in Kealakekua, Hawaii
8.
Leo Addeo and His Orchestra - Now is the Hour
9.
The Diamond Head Beachcombers - I Will Remember You
10.
Los Indios Tabajaras - Bali Ha'i
11.
The Mauna Loa Islanders - Little Brown Gal
12.
Los Indios Tabajaras - Sweet Leilani

Various - Vintage Hawaiian, Vol. 5

1.
Bill Lincoln Aliiloa & His Hawaiians - Leahi
2.
George Pokini's Hawaiians - Nee Nee Mai E Pili
3.
Andy Cummings & His Hawaiian Serenaders - Kauai Beauty
4.
Gabby Pahinui - Hi' Ilawe
5.
The Kalima Brothers - Kaulana Ka Inoa O Kauai
6.
Richard Kauhi Quartet - Kiss Me Love
7.
Randy Oness' Select Hawaiian Serenaders - Nalani
8.
Linda Dela Cruz - Keala Ka'u I Honi
9.
Jesse Kalima W

ith

The Kalima Brothers - Jalousie

10.
John & Pua Almeida W The Club Pago Pago Orchestra - Ho'oluana
11.
Randy Oness' Select Hawaiian Serenaders - My Honolulu Tomboy
12.
The Royal Hawaiian Serenaders - Manowaiopuna
13.
Gabby Pahinui - Ki Ho'alu
14.
George Kainapau - Mauna Kea
15.
The Kani Leo's

With

The Kalima Brothers - Haole Hula
16.
The Royal Hawaiian Serenaders - E Ku'u Ipo
17.
George Tautu Archer & His Pagans - Waikiki Chickadee
18.
Andy Cummings & His Hawaiian Serenaders - Waikiki

Poly and His Hawaiian Ensemble - Hawaiian Sunset

Chick Floyd - Hula La

Alf Barrie - A Lei of Stars

Andy Iona and His Islanders
- Kuu Lei

Lani Royal with The Diamond Head Band - The Sound of Hawaii Percussive Pineapples

Webley Edwards -
Soft Hawaiian Guitars

Hank Snow -
Snow in Hawaii (1967)

(sounds like the C#m tuning)

---

Using Reverb

One of the biggest mistakes newer players make is going overboard with the guitar effects. Since reverb is the most common effect on most amplifiers, it is easily overdone. Here's a recording I made of JUST A CLOSER WALK with NO REVERB at all. The more reverb that you use, that less individuality is expressed through your music. Lots of reverb will cover a player's mistakes, but that's not musicianship. The exception is in songs that sound dreamy with a lot of reverb, like MOON OF MANAKOORA.

---

Lani Kai - Island Love Songs

Jerry Byrd - Steel Guitar Favorites

Kilima Hawaiians - Greatest Hits
(Rudi Wairata played steel guitar)

Bud Isaacs - The Swingin' Steel Guitar

12.
Silver Moon on the Golden Gate
13.
Two Out of Three (vocal)
14.
Over the Waves
15.
Melody of Love
16.
Bud's Boogie
17.
Waltz of the Ozarks
18.
Hawaiian Sunset
19.
Georgia Steel Guitar
20.
Steelin' Away
21.
Beautiful

Kahana

Harry Owens Royal Hawaiian Orchestra
- Hula Breeze

---

Alfred Apaka -
Hawaiian Favorites (1964)
---
"I never quit thinking about the instrument; I never quit trying to strive for new ideas. I felt like it was important to keep forging ahead. If I stopped, there would be no reason to keep continue playing. It's an endless adventure playing the steel guitar; you're only limited by your imagination. As long as you got a good brain, you can think and play anything on the instrument. It's an endless journey." —Lloyd Green, interview 2001, Steel Guitar Rag magazine
Hawaiian Aloha
Blue Hawaii | Hawaiian Wedding Song | Pagan Love Song | My Little Grass Shack | Now is the Hour | Hawaiian War Chant | Hukilau Song | Song of the Islands | Lovely Hula Hands | Sweet Leilani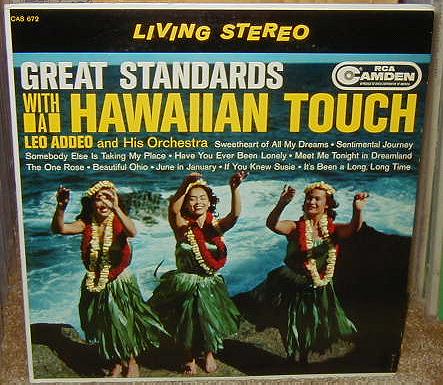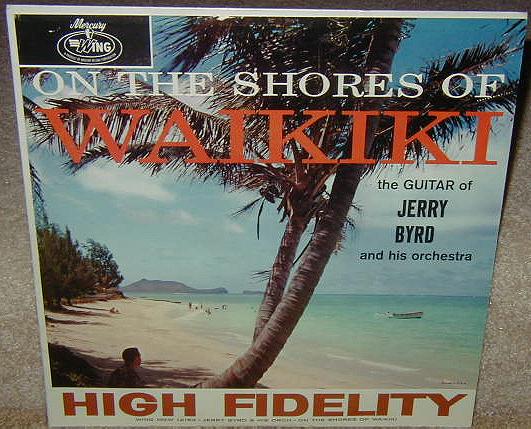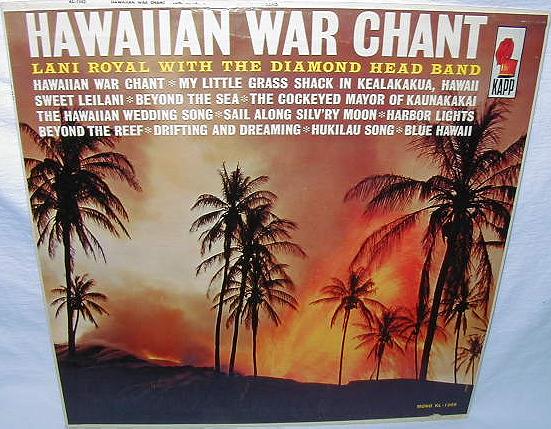 Song Tabs | C6th Intros | C6th Endings | C6 Tabs | Chords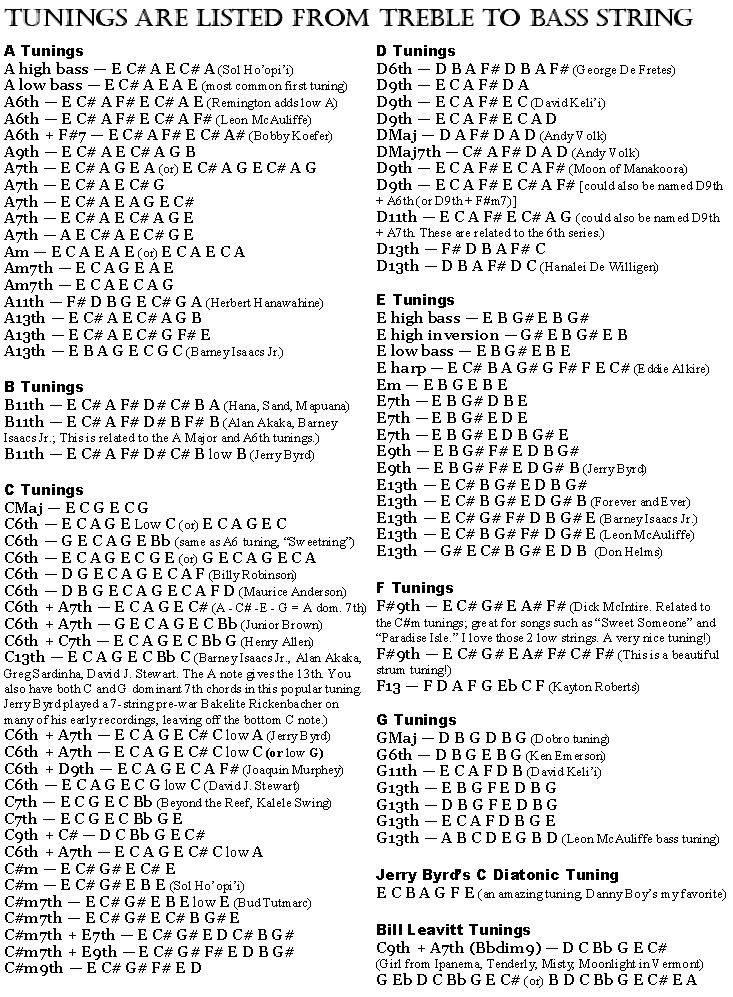 ---
My 2011 Trip to Oahu Hawaii | Hilo
My Hawaiian Album 2008

Adventures in Paradise | Farewell My Tani | Hawaiian Paradise | Little Brown Gal | Moon of Manakoora | My Yellow Ginger Lei | The Hukilau Song | Sweet Leilani | Bali Hai | Beautiful Kahana | Mapuana | Paradise Isle | Rainbows Over Paradise | Sand | Beyond the Reef | Lovely Hula Hands | Sophisticated Hula | I'll Weave a Lei of Stars | In the Garden | Song of Old Hawaii | Song of the Islands | Beyond the Reef

In 2001 I recorded a Hawaiian album for my mother before she passed away to go be with the Lord later that year. I used the A7th tuning on a pedal steel guitar. I converted my C6th neck into an A7th, very similar to the ingenious tuning of Basil Henriques.

Here's songs from an album that I recorded in 2008. The most beautiful music this side of Heaven is produced by an amazing instrument called the steel guitar. The steel guitar is distinctive for Hawaiian music. Here's a few songs I've recorded using the C6th tuning on a 6-string 1936 Rickenbacher Bakelite: Beautiful Kahana, Lovely Hula Hands, Sophisticated Hula, Little Brown Gal, Rainbows Over Paradise and Bali Hai. Here's the MP3 versions if you'd like to download them (right mouse-click to save): Beautiful Kahana, Lovely Hula hands, Sophisticated Hula, Little Brown Gal, Rainbows Over Paradise and Bali Hai.

I also recorded Moon of Manakoora recently using the D9th tuning and Paradise Isle using the F#m9th tuning (a pretty strum tuning). You can download Moon of Manakoora here and Paradise Isle Here. You're welcome to freely share my music with others or use it on your own website. You can hear me play Hawaiian Music on a pedal steel guitar using an A7th tuning, which I recorded for my mom in 2001 before she went to be with the Lord in Heaven.

On My Yellow Ginger Lei and The Hukilau Song I played steel guitar accompaniment. You can download My Yellow Ginger Lei and The Hukilau Song here. You can hear me demonstrating the awesome palm muting technique in The Hukilau Song. Not enough steel players use this awesome technique these days. It is 100% Hawaiian! You need this technique to play Hawaiian War Chant and The Hukilau Song correctly. It's simple to do... you just place the palm of your right hand at the guitar bridge. Then pick while your hand is muting the strings. Some guitars are built by people who don't know about this technique, so they place a chrome cover over the bridge, thus preventing palm muting. Ironically, the cheap $99 Rogue lap steel is built properly.

Pictured to the left is an Old Rickenbacher lap steel called the SILVER HAWAIIAN. It is made of solid chrome and is famous for it's horseshoe shaped pickup magnets. The most common Hawaiian tunings on the lap steel are the C6th and the B11th.

Bud Tutmarc is one of my favorite steel guitarists and has much beautiful Gospel music available (Bud used a C#m tuning on a 7-string lap steel for all his recordings).

I once met the great steel guitarist Jerry Byrd in Winchester, Indiana. He passed away at age 85 in 2005. Here's a video of Jerry Byrd at a much younger age playing Hawaiian guitar.

Beyond The Reef is one of my favorite Hawaiian songs to play on the steel guitar. Here's some more videos of Jerry Byrd. Here are some videos of Hawaiian steel guitar.

Jerry taught his steel guitar students that... "Talent is highly overrated. All the talent in the world means nothing if you don't have DESIRE." If you've ever heard Hawaiian music, then you've very likely heard Jerry Byrd's beautiful music. Thank God for the beautiful steel guitar!

The lap steel guitar is not that difficult to play if you're willing to stick with it. It is a very rewarding instrument to learn to play which cheers the heart's of others.

(Pedal Steel, A7th tuning)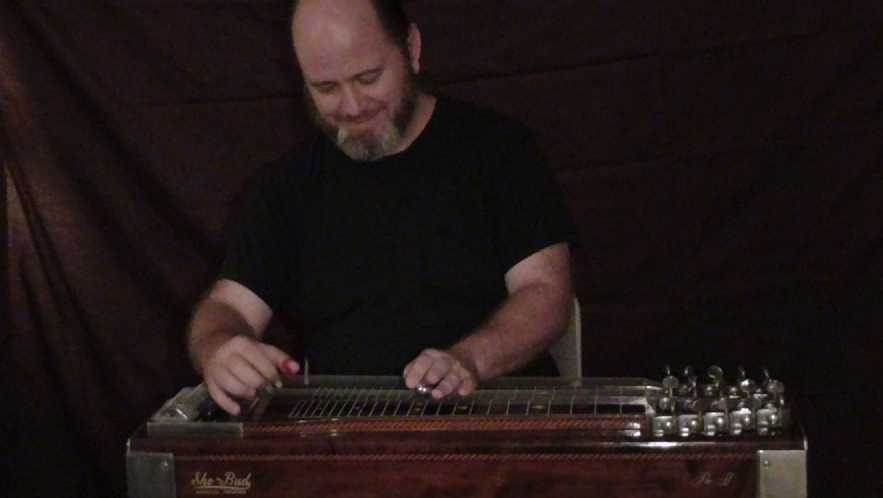 Song for Sarah | Way Beyond the Reef | Westphalia Waltz
---
E9th Pedal Steel Guitar
GFI Custom Built Pedal Steel Guitars for the Disabled
The following 3-recordings are played on a Pedal Steel Guitar (E9th tuning) by Tommy White, which is a much bigger and heavier instrument than the lap steel.
Due to two failed surgeries in 2009-2010 in my neck at C5-C6-C7 (to remove herniated disks and bone spurs), I mostly play lap steel now. The 2nd surgery left me with peripheral neuropathy (burning, tingling, puffiness and radiating pain) in my arms and legs. I also have horrible toothache-like neck pain continually. God is good and I thank Him for the remaining health I have. One day at a time. The photo below is of me back in about 1995 (when I still had hair).
My Pedal Steel Guitar Album 2002
|

Streams

|

I Love You So Much it Hurts Me

|

King of the Road

|

Moonlight in Vermont

|

Please Don't Leave Me Anymore

|

Secret Love

|

Storms Never Last

|

Summer Blue

|

Waiting for Summer

|

The Whistler

|

Making Plans
I've never played in a band, only at home with rhythm tracks, which is what these are. You are welcome to freely distribute, share and use my recordings. They're all from my heart and I want people to freely hear them. I mostly play Hawaiian steel guitar nowadays, but I am fond of all steel guitar. The following songs and lyrics are general songs, such as Greensleeves, a traditional favorite. This first song is Beyond The Reef, one of my favorites. My album songs are also listed again. If you missed it earlier, please listen to my Hawaiian album recorded in 2001 for my mother. My Mom had a big musical influence on me. You can hear her awesome Gospel piano playing here: Part 1 | Part 2 | Part 3
More from My Heart

(My favorite) Version Two | Version Three | Version Four
"The reason tone is so important is because I think ultimately that's what is the emotional connection when you're playing music to what people are hearing. If they hear good tone, there is something that strikes a resonant note in the soul. You can be playing the greatest stuff in the world, but if it doesn't have good tone, there's something that's not making a connection. I think that's what people really hear first. —Lloyd Green, interview 2001, Steel Guitar Rag magazine
Lloyd is my favorite pedal steel artist and a blessed gift from God to the world. I have over a dozen cherished letters from Lloyd that I saved from years ago when I first started learning pedal steel. I doubt if Lloyd has a bigger fan. Here's a tribute page on which you'll find a dozen rare live recordings from 1995. Here's one of them, a heart-touching classic, Amazing Grace.
---
My E9th and C6th Pedal Steel Copedents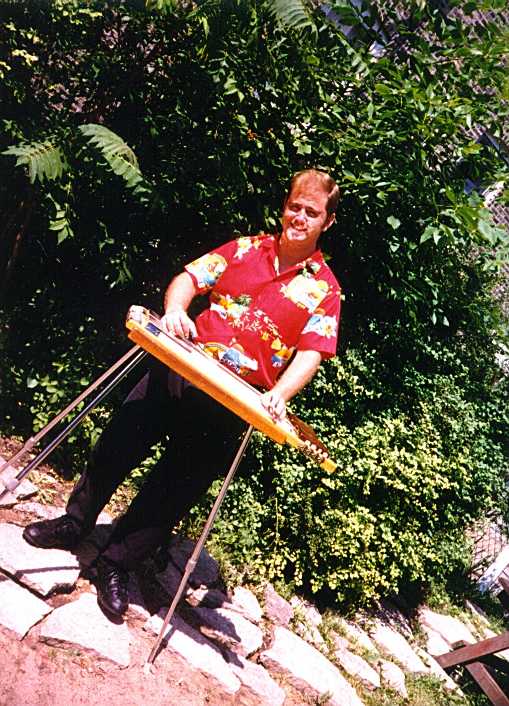 Sweet Leilani on A7th Pedal Steel by David Stewart (A7th)
---
—A Word On Volume Pedals—
I much rather prefer to use a foot volume-pedal than to use the volume knob on a lap steel as some Hawaiian players do. I've seen some really great players who have mastered the technique of using the palm of the right hand to do volume swells, or make a violin effect sound; by being a pedal steel guitar player for so many years, I am accustomed to the volume pedal.
Jerry Byrd preferred the volume pedal as well (MP3 audio clip of interview).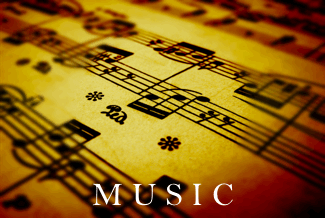 I feel awkward playing steel guitar without a volume pedal, even while playing lap steel. A volume pedal is considered standard equipment for the pedal steel guitarist; but I also use a volume pedal for Hawaiian, which few lapsteel players do. I clear a little place in the sand and place my volume pedal down. So much of my style requires a volume pedal. I generally back off the volume pedal (i.e., I lower the volume) before picking a note, and then press into the volume pedal immediately after picking a note or notes. I use this technique often, as a means of musical expression. This really makes for great steel playing in my opinion. Use of the volume pedal is an art that needs to be developed, but few players ever pay much attention to what can be done with the volume pedal.
Here's a clip demonstrating what the violin effect sounds like on a steel guitar. It can be done using the guitar's volume knob on a lap steel or with a volume pedal on any steel guitar. It is preference.
Also, there's an electronic device called an "EBOW," that produces a violin effect on the steel guitar. You can view me using an EBOW in this video song recording, BEAUTIFUL KAHANA. The EBOW uses a 9-volt battery.
Here's a fantastic video of legendary steel guitarist, Kayton Roberts, demonstrating all sorts of awesome non-pedal steel guitar techniques. In the video you'll see him doing muting, palm harmonics, swells with the volume knob, finger harmonics, hammer-ons, and some great playing overall. Here's a great video of Buddy Merrill playing steel guitar on the Lawrence Welk Show as a teenager. Buddy really demonstrates some nice techniques that can be done on the steel guitar. Here's Buddy at age 19 playing SONG OF THE ISLANDS. What a blast from the 1950's!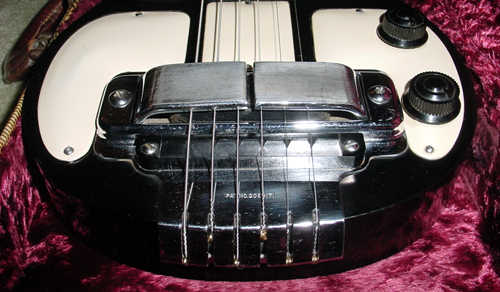 Left: Rickenbacker Post-War B-6 Steel Guitar. The body is bakelite (the same as bowling ball material). The Post-War horseshoe magnets are all 1 1/4" width (which is top to bottom from this view). Right: Pre-Wars are all 1 1/2" width. They sound alike in my humble opinion. This B-6 guitar has the strings secured on a flange; but it is preferred to have the strings running through the guitar's body (as seen on the Frypan to the right). These are Hawaiian steel guitars with a beautiful horn-like tone! Warning: Never buy any Rickenbacker steel guitar if someone has changed out either the original volume or tone pots. It will sound terrible!
Here's some great background music for around the house, Paradise

(This is just one of those songs that sounds great being played over and over.)
Matthew 7:12, "Therefore all things whatsoever ye would that men should do to you, do ye even so to them: for this is the law and the prophets."

---
—Which Amp to Use—
Amps are mostly personal preference like everything else. If you like simplicity, then stay away from digital amps. Today's digital amps are incredible powerful in their ability to manipulate a guitar's signal, but you have to deal with layers, sub-layers, and sub-layers to sub-layers of programming algorithms. No thanks! Besides, I think they sound terrible in general.
Solid State (transistor) amps are much better and there are some really great Steel Guitar amps made by Peavey and Fender.
However, I'll take a TUBE AMP ANY DAY. There are actual old-style gas tubes inside tube amps that glow orange and heat up. Tube amps process the guitar's signal ANALOG instead of DIGITAL. Think of digital in terms of 1's and 0's (on or off). That's what digital is. Your guitar's signal will be chopped off when the volume is peaked. That's horrible for the quality you want.
Most steel guitar players don't know something that took me many years to discover, i.e., an amplifier sounds best playing at about 85% of it's rated wattage. In other words, your giant 50-watt amplifier that you play with the volume knob on "2" in your bedroom won't sound anywhere near what it was meant to sound like on "8" or "9." So when you buy an amp, only buy a 15-watt amp if you're only going to play at home. My 15-watt Fender Princeton Reverb amp has a 10" speaker, 7 tubes, and I normally crank it up to about 8 when playing. It wouldn't be loud enough for a large event, but it's great for at home. What's nice is that I push the amp to it's rated limit, and that gives me the wonderful sound of a speaker being worked.
The best example of what I'm talking about is Jimmy Day's LP album, STEEL AND STRINGS. Here's an MP3 clip from the album, RELEASE ME, in which you can hear the wonderful tonal character of a speaker that is being worked. Trust me, a bigger amp is not going to produce the best sound if you don't crank up the volume. Get a smaller amp for at home, and lay into that volume pedal with your amp's volume set on about "8." If you can't, you've got too big an amp for the application. This is one of the "secrets" to great sound. You can hear me using this technique in the song, Please Help Me I'm Falling. I like to "feel" my chords when I'm playing. When you play strings 6,8 and 10 with pedals AB down, you should literally feel the sound. Jimmy Day mastered this technique. I didn't learn about this stuff until I played for a big event and really cranked up my amplifier. My tone was completely different than usual.
The sweet tones of a tube amp are unsurpassed in my opinion. The Fender Princeton Reverb amp is awesome; 10-inch speaker, 15-watts, 7-tubes; it's perfect for small to medium-sized events (and it only weighs 35-lbs).
I highly recommend a Roland MicroCube battery-powered amplifier, and then you can play steel guitar anywhere. I also like the VOX DA5 a lot. The VOX has a slightly bigger speaker, 5-inches instead of 4, which makes a big difference in your sound I think; but the MicroCube has a built-in-tuner which the VOX doesn't. The MicroCube and the VOX are both great amps, and both portable (run on batteries). The MicroCube uses 6 "AA" size batteries and the VOX uses 6 "C" size batteries. So you can see the power difference. If you want more volume, go with the VOX. When I use the Roland for Hawaiian playing at the beach, I set the reverb effect to about 3 o'clock (75%). The VOX also has a nice reverb and delay. Personally, I'd be happy with either amp. but I like the VOX because it gives me a slightly better tone with the slightly bigger speaker.
Also, I learned the hard way about leaving batteries inside the amp for prolonged periods of time without using the amp... they batteries leak acid and corrode the contacts, rendering the amp useless. I prefer Duracell batteries over all others, but contrary to what I thought, they even leaked all inside the amp after a couple months of not being used. If you take at least ONE battery out until the next time you use the amp, you'll be ok.
However, I'll take a TUBE AMP ANY DAY over a digital battery-powered amp. There are actual old-style gas tubes inside tube amps that glow orange and heat up. There's no way these amps could ever run on batteries because they use too much power, but the sweet tones of a tube amp is unsurpassed in my opinion. Gretsch makes a very nice compact tube amp with 2-tubes inside for small gatherings or at home. The Fender Princeton Reverb amp is awesome, but much more expensive, with 7-tubes inside, and is perfect for just about any event (it only weighs 35-lbs).
The Roland MicroCube is only about $125, and is very versatile. It really is a nice amp. They also now have a battery-powered MicroCube with four 4-inch speakers and much more power if you need it. I haven't tried it, but I hear it's nice. This is great for the traveling musician. Roland is coming out with some very nice musical equipment. They are listening to what the musicians want.
Remember, one of the world's greatest steel guitarists, Jerry Byrd (1920-2005) said that talent is highly overrated because all the talent in the world means nothing if you have not desire. That is so true! Talent is 90% perspiration and 10% inspiration. So work hard and keep steeling!
---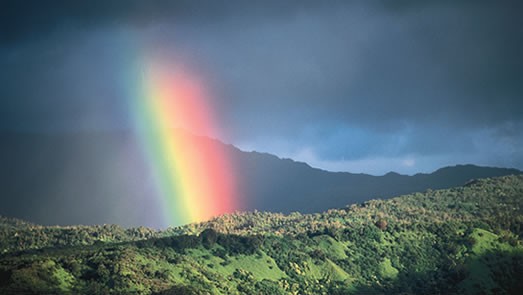 My Hawaiian Album Project 2011-2012
What A Friend We Have In Jesus | Wear A Lei (video)| Moon Of Manakoora| E Mama E
|

Intro with C lowered to B

If all you have is music, you have nothing! You need Jesus Christ as your personal Savior to truly be prosperous in life. You may be the poorest man in the world materialistically, but if you have received Jesus as the Christ, the Son of God; believing on His name to forgive your sins, then you are a rich soul indeed!
John 20:31, "But these are written, that ye might believe that Jesus is the Christ, the Son of God; and that believing ye might have life through his name."